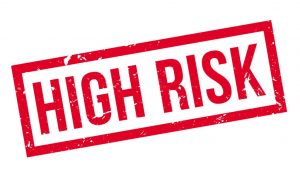 There may be no worse embarrassment than sitting in the office of your local bank where you applied for a merchant account to accept debit and credit cards and be told you were declined because you were high risk. You look around to see who is watching and listening and you feel your face becoming very warm. You have never been arrested! You don't have any unpaid parking tickets! What is this lunatic talking about? What he is saying is that you need high risk credit card processing and banks do not accept high risk accounts.
So what made the bank decide you were high risk? It could be one of many factors. Are you a new start-up company? It does not matter if you are brick and mortar or e-commerce. A start up is thought of like an individual with no credit history. They just do not know how you are going to handle money matters. To them, it puts you on the list for high risk Credit Card Processing.
High risk means just what it says. The powers that be have considered the business you are in to present them with a large liability. This liability comes in the form of chargebacks. A chargeback is when a merchant accepts a card for payment and receives an authorization code. When the transaction is presented to the issuer it is determined that the entire account is fraudulent due to identity theft. Or, a customer receives his monthly bill and sees the charge amount and calls his card company declaring he did not make the purchase. In the second instance it could be that the name of the retailer or service provider is different than the legal name registered with the payment processor. Rather than investigating, the issuer will simply chargeback the amount.
E-commerce companies are always targeted as high risk. This is because the card and customer were not present when the account was charged. There is a high risk that an unauthorized person used the card.
Visa and MasterCard have a laundry list of industries they consider to be high risk. You may not think so, but they are the ones in control. Just some of the types of businesses regarded as high risk are adult dating sites, vitamins and nutritional supplements, credit repair businesses, bankruptcy attorneys, collection agencies, travel agencies and tour operators. There are many, many more.
So now that you know you are high risk and you want to process debit and credit cards, what do you do? You call a high risk specialist like the High Risk Guys. Here is a company that devotes its time and effort specifically in High Risk Merchant Account. They know the challenges you encounter daily. The electronic signature application is easy. There is no application fee and you can be approved in as little as 48 hours. The High Risk Guys are made up of industry veterans that have helped thousands of high risk merchants get approved quickly. And, you will receive some of the lowest rates in high risk credit card processing.